AFTER THE END Blog Tour (Truth or Dare!)
This is one of Amy's special author-hosted Truth or Dare stops. (The truth-or-dare theme is particularly relevant to AFTER THE END, since Juneau's oracle has said she has to tell the truth or she won't find her clan.) I opted for "dare," giving Amy the mission to ride this merry-go-round: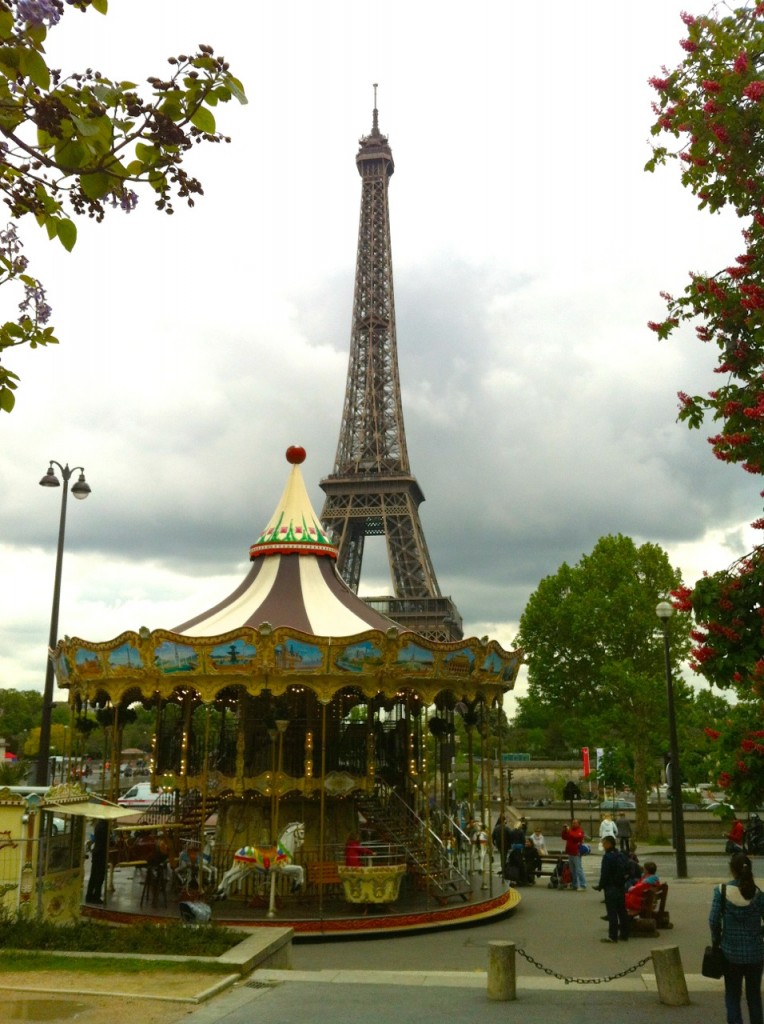 while wearing a tiara and waving an American flag.
Amy's response: "I actually didn't think this dare would be a problem - I borrowed a tiara from my 6-year-old daughter, printed off an American flag and taped it to a paintbrush, and booked it over to Trocadero with some friends to take the pictures. But once I got there, paid for my ticket and put the crown on I was feeling pretty stupid.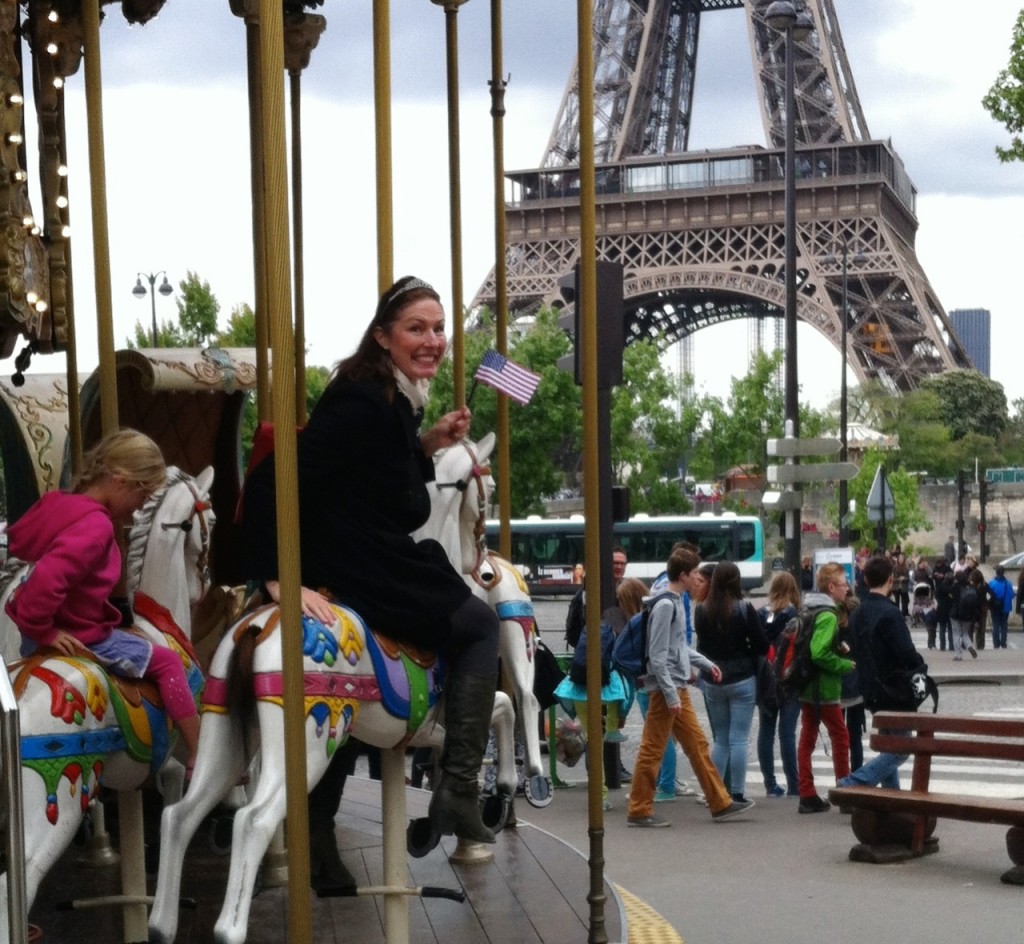 And then, by the third time around I had lost all sense of pride and started enjoying it...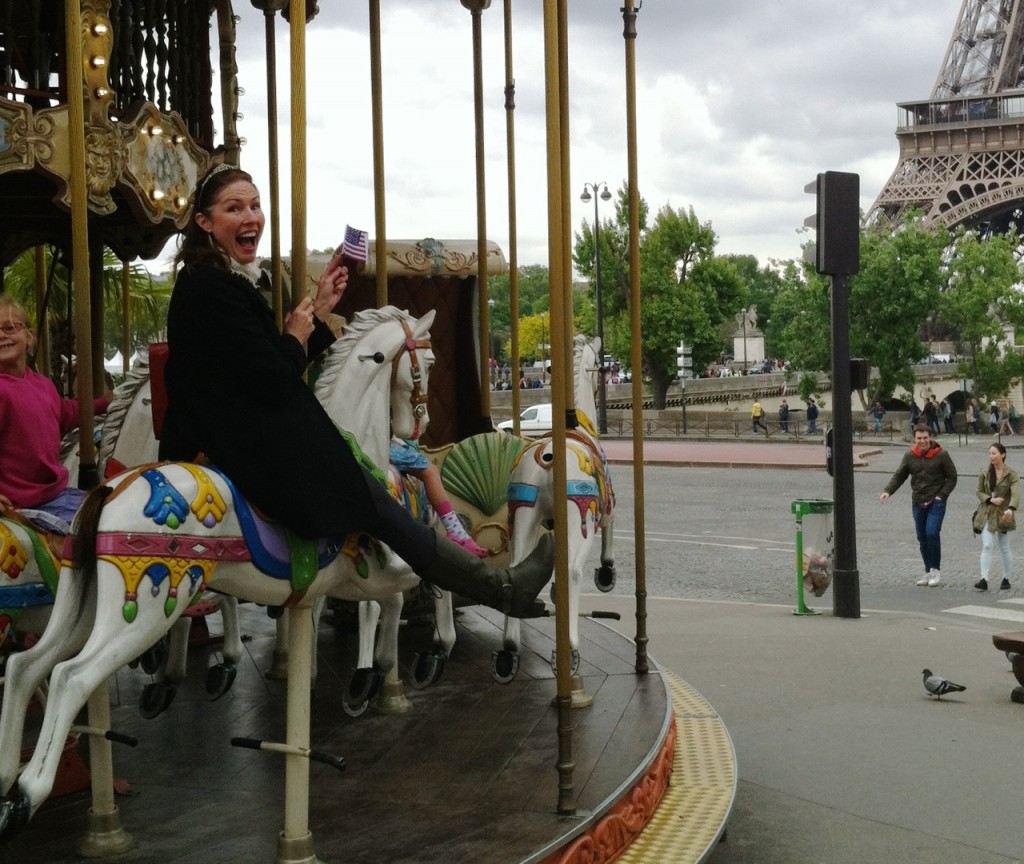 They basically had to tear me off my horse and force me to take off the tiara once the ride was over. Okay, not really. But it wasn't as bad as I had feared. In fact, who knows...maybe I'll go back and do it again next week. P.S. Never ask Kim Derting to give you a dare. She had WAY too much fun thinking this one up!" And now, on to the juicy info about AFTER THE END + prizes!
About the Book
By: Amy Plum
,
Published by: Harper Teen, hitting shelves on May 6, 2014
Pre-Order from: Amazon | Barnes & Noble | Indiebound
Find out more about the book
World War III has left the world ravaged by nuclear radiation. A lucky few escaped to the Alaskan wilderness.
They′e survived for the last thirty years by living off the land, being one with nature, and hiding from whoever else might still be out there.
At least, this is what Juneau has been told her entire life.
When Juneau returns from a hunting trip to discover that everyone in her clan has vanished, she sets off to find them. Leaving the boundaries of their land for the very first time, she learns something horrifying: There never was a war. Cities were never destroyed. The world is intact.
Now Juneau is adrift in a modern-day world she never knew existed. But while she′s trying to find a way to rescue her friends and family, someone else is looking for her. Someone who knows the extraordinary truth about the secrets of her past.
About Amy Plum
Amy Plum is the author of DIE FOR ME, a YA series set in Paris. The first three books—DIE FOR ME, UNTIL I DIE, and IF I SHOULD DIE—are international bestsellers, and have been translated into eleven different languages. The fourth book is an eNovella, entitled DIE FOR HER. The first book of Amy's new series, AFTER THE END, releases in May 2014.
Amy grew up in Birmingham, Alabama before venturing further afield to Chicago, Paris, London and New York. An art historian by training, she can be found on most days either daydreaming or writing (or both) in a Parisian café.
Visit her on: Blog | Twitter | Facebook | GoodReads
The Giveaway
Each stop on the tour will be hosting a giveaway! We're giving away:
- 13 SIGNED After The End books
- 6 iPhone After the End shells.
*This is open Internationally*
To enter, please be sure to fill out the form featured on each stop along the tour.
a Rafflecopter giveaway
The first 300 people who pre-order AFTER THE END and show proof of their pre-order will receive one of these limited edition After The End water bottles. *see below*